Online Jhandi Munda Guide
Originated in Arunachal Pradesh in the 18th century, Jhandi Munda is a traditional dice betting game that is quite popular among Indian players. On this page, we take a look at the complete ins and outs of Jhandi Munda to help you get started. Also, we offer a comprehensive list of the best online casinos to play this exciting casino game online in India. In this guide, you'll get to know:
Basic rules and gameplay
How to get started playing online
Difference between online and live Jhandi Munda
Best Jhandi Munda casino sites to play
And many more things!
Best Jhandi Munda Casino Sites
Live Casino Cashback!
Jackpot Drops every 10 min
UPI, RuPay, PayTm, NetBanking
100% Live Casino Welcome Bonus to ₹5,000
Superior Live Casino Offering
Loyalty Points for Cash
₹20,000 Live Casino Bonus
Indian Games
Live Casino weekly Cashback bonus
Today, you will find numerous online casino sites available for real money gambling in India. However, many of them are international operators and not all of them have a selection of Jhandi Munda games or make for an immersive gaming experience. So, we've created a list of what we think are the best online casinos that offer numerous online Jhandi Munda games to their players. All our recommended sites have a wide selection of payment methods available. Making it easy for players to make a deposit and withdraw money from their accounts.
Also, our listed sites are licensed and regulated by reputable gambling authorities. In case you have any questions related to your gaming they provide excellent customer support via multiple channels, like live chat and e-mail. So, you can always be sure that you'll have a safe, authentic, and all around great real money gambling experience with any of them.
History of Jhandi Munda Game
Before diving deep into the basics and other game aspects of Jhandi Munda, let's first take a look at the history of the game. While there isn't a clear timeline of how this game appeared or evolved, it's widely believed that Jhandi Munda originated in the streets of Arunachal Pradesh. From there, it spread to neighbouring countries such as Nepal, Bangladesh, and Bhutan. The game is widely known as Langur Burja in Nepal.
Another widely believed theory about the origins of Jhandi Munda is that somewhere around the 18th century a game known as Crown and Anchor, was played by the British Navy. The Crown and Anchor which is quite similar to Jhandi Munda and Langur Burja in Nepal. During that time, the dice game spread to the areas that the navy traveled to the most.
Today, Jhandi Munda is more than just a casino game in the Indian subcontinent. It is a cultural tradition to play Jhandi Munda during the festive seasons of Tihar, Dashain, and Dashami. In fact, one can even find people playing the game on the streets in parts of North East India.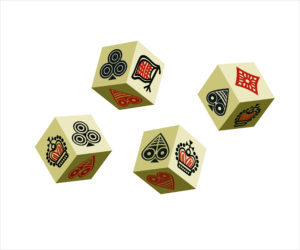 How to Play Jhandi Munda Online in India?
The game features simple and easy to understand rules. Jhandi Munda is one of the best casino games to play online. For Indian players who are new to the world of online casino gambling, you'll be pleased to know that to play Jhandi Munda online is pretty simple and straightforward. To play this exciting casino game online, all you need to do is follow these simple steps:
Choose your online Jhandi Munda site from our list of recommended casinos.
Register your account with the site by providing the required details.
Log into your casino account using your login credentials.
Navigate to the cashier section of the casino and deposit cash funds to your account using one of the available payment methods.
Locate your favourite Jhandi Munda game from the list of available games in the casino lobby and click on it.
And that's it! You are now ready to play your favourite Jhandi Munda game online.
Jhandi Munda Rules and Aim of the Game
As with many other games of chance, Jhandi Munda comes with simple and easy to understand game rules. The game makes use of six 6 sided dice. The dice used are quite similar to the normal Ludo dice, with the major difference being that the Jhandi Munda (also Langu Burja) dice have symbols printed on them instead of numbers. The six symbols on the Jhandi Munda dice – face, flag, club, diamond, heart, and spade – are often replicated on the gaming board.
When you play the game, your main aim of the game is to bet money on which symbol you think is likely to appear face up most often. After all the six dice are rolled, if one or more of your selected symbols appear face up, you will get paid according to the pay table of the game.
Here is a basic rundown of the game to make it more concrete:
As a player, you bet money on the symbol you think will appear face up most often.
The dealer then rolls the dice, all six of the dice.
The player whose chosen symbol appears face up the most times, wins.
If your chosen symbol doesn't appear, you lose your bet wager.
Jhandi Munda Payouts
As with many other online casino games, the payouts in online Jhandi Munda can differ from one game provider to another. However, many online casinos have adopted a progressive payout system, which is as follows:
| | |
| --- | --- |
| Number of Jhandis / symbols | Payout |
| 1 Jhandi | Bet amount + 1 x the bet amount |
| 2 Jhandi | Bet amount + 2 x the bet amount |
| 3 Jhandi | Bet amount + 3 x the bet amount |
| 4 Jhandi | Bet amount + 4 x the bet amount |
| 5 Jhandi | Bet amount + 5 x the bet amount |
| 6 Jhandi | Bet amount + 6 x the bet amount |
Here's an example to make it clearer. Assume that you bet money on the symbol "Spade" to show face up, and four spades appear face up out of the six dice rolled. Here, you will get paid a total of five times your bet money (initial bet amount + 4 x the bet amount). Assuming you placed a wager of Rs. 100, your payout will be Rs. 500 (100 +4 x 100) in a single roll of the dice.
Hot and Cold
Depending on what symbols the dice roll up, players can start calling them hot and cold. A hot symbol is a symbol that comes up frequently and a cold symbols that is showing up less. This means a player betting a hot and cold strategy, is placing more bet money on hot symbols than cold symbols. You should remember that with the randomness of the dice, the likelihood of hot symbols and cold symbols are the same for each round.
Benefits of Playing Jhandi Munda Online
To play Jhandi Munda online is much different than playing it at a land based venue. When you play online, you'll have numerous game versions to try your hands at and a variety of potential bets and side bets to make. Below are some of the many advantages of playing Jhandi Munda online:
Convenience – Perhaps the greatest reason to play Jhandi Munda online is that you can enjoy it whenever and wherever you want. Unlike land based gambling venues, you don't have to limit yourself to the set hours of the casino or go to a designated location. You can play online Jhandi Munda anywhere, anytime. Both from your computer or mobile phone.
Multiple table options – Unlike the traditional Jhandi Munda game, its online counterpart comes with a number of tables. So, if for some reason you don't feel lucky at one table, you always have the option to switch to another one.
Safe payments – When you play online, you don't have to worry about the safety of your cash transactions. All our listed casinos have a variety of security measures in place and they only offer the most trusted and well known payment methods.
Casino Bonus and promotion offers – Unlike traditional casinos, online casinos offer a wide variety of bonuses and promotional rewards to their players. Some of the many bonus offers available at online casinos are deposit bonuses, no deposit bonuses, reload bonuses, and more.
Play for free – With online casinos, you have the option to play Jhandi Munda games free before you try them for real money. Playing in the free play way, you can easily get acquainted with the basic game flow and other rules of the game.
Variations of Jhandi Munda
When you play at online casinos, Indian players will typically find two different Jhandi Munda versions: Online Jhandi Munda (RNG) and Live Jhandi Munda (live streamed). While these two styles of playing are two sides of the same coin, they do come with some notable differences.
Online Jhandi Munda is essentially a virtual version of the game that makes use of a Random Number Generator (RNG). The RNG software generates the outcome of the Jhandi Munda game and ensures that the result is completely random each game round. In online Jhandi Munda, there is no human element at play; everything is done via the computer and RNG software. The RNG based Jhandi Munda games come with top notch graphics and are the preferred choice for players who want to enjoy the gameplay at their own pace.
In contrast, live Jhandi Munda is as close to real land based casino gambling as it can get. With Live Jhandi Munda, you're offered a real live casino dealer who is there to assist you throughout the gameplay. With high quality HD streams available, Live Jhandi Munda can make you feel like you've been transported to a real brick and mortar casino. Also, the live version allows you to socialise with the live dealers and other players via the live chat option. Just note that with live Jhandi Munda games, you'll have to behave under normal casino rules, such as making fast decisions to ensure smooth progress for all players in the game.
FAQ
Is it safe to play Jhandi Munda online in India?
Yes. All our recommended online casinos have been licensed and regulated by leading gambling authorities and their systems are also tested for security by various independent third party agencies. So, you can be fully comfortable that it's safe and secure to play Jhandi Munda online with any of our listed casino sites.  
On which casino site can I play online Jhandi Munda?
The Jhandi Munda sites listed on this page are known for offering a high quality gaming experience and player services to Indian players. So, we recommend you sign up with any of our listed casinos and start to play your favourite Jhandi Munda games for real money.
How can I win when playing Jhandi Munda game?
The game of Jhandi Munda is based on the element of chance. So there's nothing that can assure you cash wins when you play it online. You need to get lucky. However, there are certain betting strategies that you can use to improve your overall chances of winning.

Can I play Jhandi Munda game for free online?
Yes. Many of our recommended casinos allow players to try Jhandi Munda for free before you play it for real money.
Our Conclusion
Without a doubt, Jhandi Munda is one of the best casino games to play online. It is fast and action filled. This dice game comes with simple and easy to understand rules. Anyone can easily start to play it after watching a few rounds of gambling action. Also, the game comes with good payout rates, offering you the chance to win a decent amount of real money if you get lucky. Moreover, online Jhandi Munda games have several exciting game and betting features that make for a highly entertaining gambling experience. Join any of our recommended casinos now and start to play Jhandi Munda today! Hope you get lucky and get hot symbols all the way when you place a bet.
Recommended Online Jhandi Munda Casino Sites
Live Casino Cashback!
Jackpot Drops every 10 min
UPI, RuPay, PayTm, NetBanking
100% Live Casino Welcome Bonus to ₹5,000
Superior Live Casino Offering
Loyalty Points for Cash
₹20,000 Live Casino Bonus
Indian Games
Live Casino weekly Cashback bonus
Players Also Read
Last Updated on February 2, 2022