How to Play Sic Bo Online
Sic Bo is one of the most popular dice betting games with a long history. Sic Bo is quickly becoming popular among Indian casino players as well. On this page, we offer a comprehensive Sic Bo guide to help you learn how to play Sic Bo online. Also, we will recommend you the list of the best Sic Bo casinos available. Online casinos that make for a safe, immersive, and authentic online Sic Bo experience. In our game guide, you'll get to know:
How to play Sic Bo online?
The different Sic Bo variants to play online
How to win playing real money Sic Bo?
The best casinos to play Sic Bo online
And a lot more good to know info!
Best Online Sic Bo Casino Sites India
Live Casino Cashback
Daily Drops to ₹4,000,000
Android and iOS App
Popular Indian Live Casino Games
No Deposit Fees
UPI, NetBanking, PayTm, GPay and more
When you play casino games online, to choose the right online casino is of paramount importance. After all, a good online casino ensures that it offers real money players everything that's needed for a great gambling experience. As such, we will offer our top list of the best Sic Bo casinos. Casinos that have a number of exciting Sic Bo games on offer. In addition to the games, our recommended online casinos have a variety of payment methods on offer. As well as they offer excellent customer support service via multiple channels, like live chat and e-mail. These online casinos are licensed and regulated by reputable gambling authorities, so Indian players can rest assured that these Sic Bo casinos are safe and secure to make deposits to and play at.
Sic Bo Rules and Aim of the Game
In short, the aim of the game of Sic Bo is betting on specified dice outcomes. The game is played with three (3 dice).
At the first glance, Sic Bo might seem like a complex casino game to grasp. However, Sic Bo comes with simple game rules and the game process is quite easy to follow. In fact, the main aim of Sic Bo is not that different from many other casino games.
To roll one dice in any dice based game has the possibility of getting a face value between 1 and 6. If you increase the number from one dice to two dice, the resulting possibilities increase in dice combinations, same face value, and more. Sic Bo is an exciting casino game played with three dice and is based on all the related possibilities that can arise from the three dice combination. In Sic Bo, you have the option to place a bet against one or more than one possibility, as per your preferences.
Sic Bo Betting
As with many other real money casino games, the game of Sic Bo makes use of a game table. The Sic Bo table features several Sic Bo betting options.
These bet options are then separated into different groups on the table based on their payout odds. The bottom part of the table layout has single number bets. Where the number you placed your bet on, need to appear on one, two or three dice.
Moving up, the Sic Bo table has combination bets, where you to win need to get the dice to roll the number combination you placed your bet on.
Which are followed by total bets, where you win if the total amount of the dice face value is equal to the number you placed your bet on. On the top of the table, there are specific double, specific triple, and any triple bet.
In the top you can also bet on either 'small' or 'big', which is a 1:1 to if the the number combination of the dice is small or big.
Game Process
Now you know the main goal of Sic Bo and the basic construction of the Sic Bo table. Below is a look at the four main steps to playing the game online:
Step 1 – At the start of each Sic-Bo game round, you need to place your bets on the table. This is done by placing chips on the part of the table that corresponds to the bet that you want to make.
Step 2 – Once all the players have placed their bets on the table, the dealer will roll the dice either by hand or nowadays most often with the help of an automated electromagnetic roller.
Step 3 – After the roll of the dice comes to a stop, you'll be able to see whether you've won or not. The dealer will remove all losing bets. And if your real money bet is a win, the live dealer will pay out your cash winnings according to the game's paytable.
Step 4 – You either choose to place bets on the new game round or you opt-out of the game.
Sic Bo Payouts
When you play Sic Bo, you have the option to place cash wagers on several sectors of the Sic Bo table. Each sector on the Sic Bo table corresponds with a particular type of bet, and each bet has its respective payout and house edge. Below is a table that details the payout offered on the various Sic Bo betting options.
| | | |
| --- | --- | --- |
| Dice Bet | Payout | House Edge |
| Small | 1:1 | 2.78% |
| Big | 1:1 | 2.78% |
| Four (4) | 62:1 | 12.43% |
| Five (5) | 31:1 | 11.04% |
| Six (6) | 18:1 | 12.03% |
| Seven (7) | 12:1 | 9.78% |
| Eight (8) | 8:1 | 12.52% |
| Nine (9) | 7:1 | 7.44% |
| Ten (10) | 6:1 | 12.5% |
| 11 | 6:1 | 12.5% |
| 12 | 7:1 | 7.44% |
| 13 | 8:1 | 12.52% |
| 14 | 12:1 | 9.78% |
| 15 | 18:1 | 12.03% |
| 16 | 31:1 | 11.04% |
| 17 | 62:1 | 12.43% |
| Any Triple | 31:1 | 11.04% |
| Combination | 6:1 | 2.77% |
| Double | 11:1 | 11.08% |
| Triple | 180:1 | 16.74% |
Sic Bo Game Versions
The game of Sic Bo has been around for centuries. Therefore it is no surprise that there are various Sic Bo variants available to play. Below are the most common Sic Bo variants that are quite popular among Sic Bo players:
Grand Hazard
Grand Hazard is a popular Sic Bo variant that involves the use of three dice. This version differs from the original Sic Bo game in some of the bets and the original table layout. Here, the dice are thrown with a cup or rolled down a sloping channel containing a series of planes that tumble the dice as they roll.
Chuck-a-luck
Also known as Sweat Cloth or Bird Cage, Chuck-a-luck is another Sic Bo version that you can find online. This Sic Bo game makes use of three dice that are kept in a device that looks like a wire-frame bird game. Having the three dice in a birdcage, the live dealer rolls the dice either by hand or with a mechanical system. Also, this version usually features only single number bets with an additional bet for any triple. This game was quite popular in the US, but not that common to find anymore as it has been replaced by the classic Sic Bo tables.
Hoo Hee How
This version is mathematically the same as betting on a specific number in Sic Bo. However, Hoo Hee How makes use of three dice that have symbols on them instead of numbers. Each die has the following symbols: fish, scorpion, goard, coin, crab, and rooster. Besides, there are six bets available, one for each symbol. Depending on how often a symbol appears, each bet in Hoo Hee How pays between 1:1 and 3:1.
Yee Hah Hi
Yee Hah Hi is another version of Sic Bo that is played with pictures on the dice instead of numbers. In this variant, there are six symbols and three colors, with each color being associated with two symbols. Depending on the number of dice that are of the same color, bets in Yee Hah Hi pays between 1:1 and 7:1.
Super Sic Bo
Super Sic Bo is the classic, simple dice game where the fun is taken up a notch with the addition of random multipliers in every game round. Just as in the real money classic Sic Bo game, players predict the outcome of the shake of three standard dice in Super Sic Bo. Added to this is the random high payout RNG element, where random multipliers up to 1000 x are applied to between zero and several bet spots in every game round!
How to Play Sic Bo Online in India?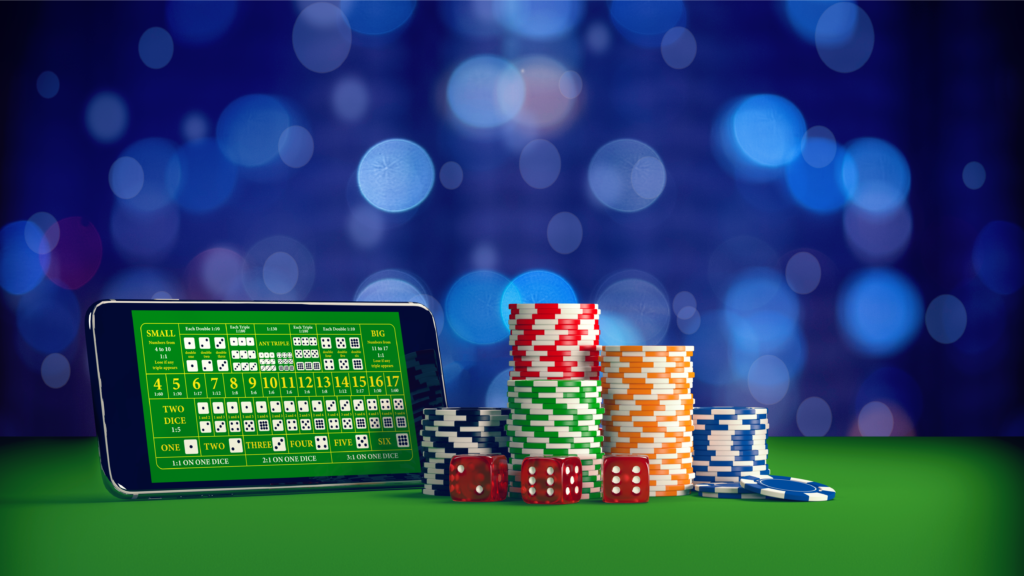 For Indian players who are new to the world of online casino gambling, to get started with real money Sic Bo is quite simple and straightforward. Below is the short step by step guide to start playing real money Sic Bo online in India.
Choose an online casino of your liking from our list of recommended real money casinos.
Register your account with the casino by providing the required details such as name, email address, and mobile number.
Verify your casino account by confirming your email address or mobile phone number.
Make a deposit to your casino account by using one of the available payment methods.
Almost all our listed real money casinos offer an exciting welcome bonus that comes with a generous deposit bonus amount and can also offer free spins. As such, be sure to take advantage of the welcome bonus on offer.
Now all you need to do is select your favourite Sic Bo game from the list of available casino games and start to play and roll the dice
Most Popular Sic Bo Game Strategies
As with many other online casino games, there are certain strategies that you can use while playing Sic Bo in an online or live casino. However, it's important to note that there's no strategy that can ensure you guaranteed wins every time you play this dice betting game online. As such, it's important that you have a proper bankroll management strategy in place and only wager within your betting limits.
Below are some of the most Sic Bo strategies that you can use while playing the game online:
The 1-3-2-4 Sic Bo Strategy
The 1-3-2-4 Sic Bo strategy is a very simple betting system that involves betting on a sequence of 1, 3, 2, and 4. When using this strategy, the numbers 1, 2, 3, and 4 represent the units/chips you're betting with. So, for instance, if 1 betting unit/chip is Rs. 100 for you, your first bet must start with Rs. 100. The second chip continues with Rs. 300 and the 1-3-2-4 sequence continues, as long as you're winning in the game.
In case of a loss, you begin from 1 unit again (Rs. 100 here) and restart the sequence. A great thing about this dice game strategy is that as long as you manage to win the first two bets (1 and 4), you're guaranteed to win even if you lose your third wager.
The Martingale Strategy
The Martingale strategy is a popular betting strategy that is often used in the game of Sic Bo. The concept behind this strategy is very simple – every time you lose a bet in Sic Bo, you double the stake amount of your next bet. You keep doing this until you win. That way, you cover all your previous losses and end up with a profit equal to your original bet amount.
While the Martingale strategy does sound like a great system, it can wipe out the bankroll if you players continue to place their bets and experience a continuous losing streak. So, if you wish to use it, make sure that your wagers don't exceed your set bankroll budget.
The Low-Risk Strategy
Many Sic Bo experts suggest that beginners must have a defensive approach to the game. As such, there's a "low-risk" strategy for players that involves choosing the bets with low house edge and the highest probabilities.
As you'd be knowing, the small and big bets are easy to work with and offer almost even chances to win excellent payouts. Also, novice players can try the combination bets along with small and big bets as they come with excellent opportunities to win.
The Balanced Strategy
When playing Sic Bo online, placing wagers on 9 and 12 gives you the best chances of winning a decent amount compared to low-risk strategies that involve placing small and big bets. With a payout of 6 to 1 against odds of 15 to 2, the idea here is to place a bet on a single total and then play a combination of three double bets.
The balanced system is a strategic way of Sic Bo betting that has the potential of increasing the percentage of wins. However, note that this strategy involves placing wagers with a higher than usual risk, so it's important that you only bet the money that you can afford to lose.
High roller Strategy
Mainly designed for more experienced players, this dice game strategy involves placing multiple bets with emphasis on 8 and 13. The idea behind this strategy is that you place multiple bets on either 8 or 13. This is followed by a second bet on a double and a third bet on a domino. This triple combination, in turn, can improve your chances of winning. When using this real money casino game strategy, it's important that you choose the number of your multiple bets wisely. This is because placing huge multiple bets can lead to increased losses if you experience a continuous losing streak.
Free Sic Bo
Before you play Sic Bo for real money, it is good that you familiarise yourself with the game rules and other aspects of the game first. One options is to play free Sic Bo games with the casinos that we've listed at the top of this page. However, the Sic Bo free play is only available in the slots RNG versions.
Alternatively, you can also watch a live Sic Bo game presented by a live dealer before you make a deposit. This is a good way to see how the gameplay flow. Also the live casino Sic Bo experience is so much better than the slots. The live dealer games are streamed directly from the live casino studios, and is almost like being there yourself.
Once you feel confident that you can play the game for real money, you can add cash funds to your casino account by using one of the available payment methods and start playing Sic Bo online. You will find popular Indian payment methods to choose from, like UPI casinos and Netbanking casinos.
Sic Bo Tips and Tricks
Sic Bo is a great and fast paced casino dice game that comes with fairly straightforward rules. Although the casino game is easy to learn, it can take a long time to become a Sic Bo master. This is because of all the variety of different bets available to you in Sic Bo. As such, it's good for you to learn the different types of bets and their associated house edge. The lower the casino's edge, the higher the probability is for you to win.
As mentioned earlier, the game of Sic Bo can be played by applying different betting strategies. So, you can select a betting system that suits your preferences and use it while playing Sic Bo online. Also, make sure you have a proper bankroll management strategy in place as it will help you stay in your budget.
Next, choosing a good online casino is crucial for an authentic and seamless Sic Bo experience. That being said, all our recommended online casinos are known to provide the best Sic Bo gambling experience to all their players. As a player, all you need to do is register your online casino account with any of these casinos and you're ready to roll the Sic Bo dice!
History of Sic Bo
Also referred to as Dai Siu or Tai Sai, Sic Bo is an ancient Chinese dice game that is widely popular throughout Asia. To put an exact date to the creation of Sic Bo is almost impossible. This game has developed over a long period of time. However, ancient Chinese books show that Sic Bo already appeared on the scene during the reign of the Great Masters of China. Under whose guidance several martial arts such as Karate and Tai Quon Do developed.
Sic Bo was initially used as a form of relaxation by the martial arts fighters. However, the game slowly found its way into the elite's homes, particularly during celebrations and family events. Eventually, Sic Bo reached the masses and most of the Chinese people started to play Sic Bo.
At that time, the Chinese used to trade with several other nations in Asia. So, Sic Bo soon found its way into other countries in the Asian continent. With time, Sic Bo also made its way to the West, and it's now a common casino game title found in online casinos in the US, Europe and across the globe.
Sic Bo Glossary
For any casino players who are new to the game of Sic Bo, here's you will find a list of the most popular Sic Bo terms to help you get started.
| | |
| --- | --- |
| Sic Bo Term | Definition |
| Any Triple | Any Triple refers to three of the same number on all three dice. |
| Bankroll | Bankroll refers to the amount of money that a player has for gambling-related activities. |
| Betting Table | Betting table is where all the action unfolds |
| Big Bet | This is a bet placed when you predict that the sum of dice will fall between 11 and 17. |
| Cage | A small device that is used to shake and roll the dice in Sic Bo |
| Dice | The three cubes marked with numbers 1 through 6 on each side used to play Sic Bo |
| Double | This is a bet where a player wagers on two of the three dice showing a specific number |
| Duo | The same as Double |
| Re-Bet | To repeat the same bet as in the previous game round. |
| Small Bet | A wager you place predicting that the total score of all the dice will be between 4 and 10 |
| Spin | A term used for the commencement of shaking the dice |
| Strong Bet | A wager in Sic Bo that includes all three of the dice |
| Total | A bet where you wager on all three of the dice numbers |
| Triple | A bet where you predict that all 3 dice will have the same number of a kind |
| Weak Bet | A wager placed on the outcome of only one or two of the dice |
FAQ
Is it safe to play Sic Bo online?
Yes. All our recommended online casinos are licensed by reputable gambling authorities and are also tested by independent entities for fair gameplay. So, you can rest assured that it's completely safe to play Sic Bo online with any of our recommended sites.
On which casino sites can I play online Sic Bo?
All the online casinos listed on this page are known to offer a safe, immersive, and authentic Sic Bo experience to their players. So, we suggest you sign up and play with our recommended casinos.
How can I win money at Sic Bo?
Sic Bo is a casino game of chance that solely depends on the element of luck. So, there's nothing that can ensure you guaranteed cash wins in the game. However, players can employ the strategies mentioned in this article to improve their overall chances of winning. This is for example, placing bets on combinations that statistically are more likely to roll face up.
Can I play Sic Bo for free online?
Yes. Many of our recommended casinos provide players the chance to play Sic Bo for free before you make a cash deposit to your casino account. The free play mode is available in the RNG video slots. Live dealer games do not provide free play versions.
Can I play Sic Bo games on an mobile app?
The Sic Bo live dealer games come fully optimised to your mobile phone. You can use the mobile browser or download the mobile app if provided by the casino.
Our Conclusion
Featuring simple and easy to understand game rules, Sic Bo is an exciting dice betting game to play online. The game comes with a variety of real money betting options that have exciting payouts to offer. Also, when you play Sic Bo online, you can experience high-quality graphics from the live casino studios where you can chat with both the live dealer and other players. You can also take advantage of several exciting features in the Super Sic Bo game version. So, pick any of our recommended online casinos now and start playing Sic Bo today!
Live Casino Cashback
Daily Drops to ₹4,000,000
Android and iOS App
Popular Indian Live Casino Games
No Deposit Fees
UPI, NetBanking, PayTm, GPay and more
Players Also Read
Last Updated on February 15, 2022